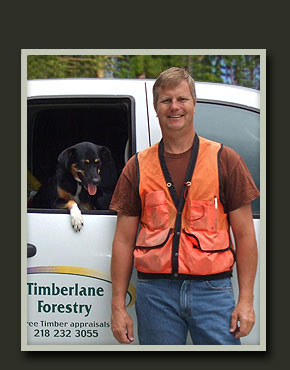 About Erik Eggen
I earned a Bachelor of Science degree in Forest Management from the University of Montana, Missoula in 1988. I am a member of many forestry and wildlife organizations including; MN Forestry Assoc., Society of American Foresters, MN Deer Hunters Assoc. and The Ruffed Grouse Society.
My dad is a forester and I worked my way through high school and college for the family forestry business. I also gained 10 years additional experience working for Weyerhaeuser, a large international company. My experience includes the following: writing timber appraisals, working with private landowners, establishing tree plantations and wildlife habitats, fighting forest fires, supervising logging crews, and working in sawmills and a paper mill. I studied forestry abroad in Germany's Black Forest, which has helped me gain even more appreciation for what we have here in Minnesota.
References are available upon request.
Thank you,
Erik Eggen
Timberlane Forestry serves northern and central Minnesota.
For a timber appraisal, aerial photo or property location, call Erik Eggen at 218.232.3055
or fill out the form below. We'll be happy to answer your questions.

Mailing Address: Timberlane Forestry, 13116 Timberlane Drive Baxter, MN 56425



Please email Erik at erikdebe@brainerd.net